Providing Trusted Pest Control Solutions In North Carolina Since 1993
With over 25 years of experience, Pest & Termite Consultants provides effective pest control services for home pest control and commercial properties here in North Carolina. We employ eco-friendly practices in our services to ensure the safety of your family, pets, customers, employees, and more while effectively eliminating your pest problem!
Why Choose Pest & Termite Consultants?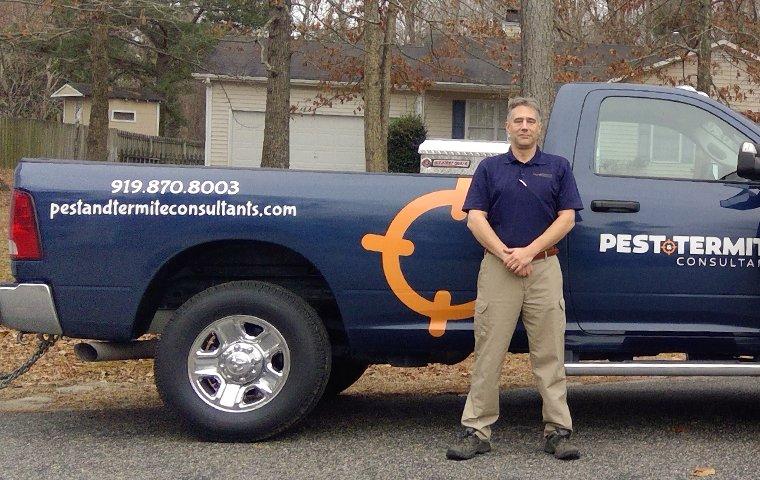 Founded in 1993, you may recognize Pest & Termite Consultants as the guys in the blue trucks. We're known for our dedication to ensuring a pest-free environment for our clients, while causing minimal environmental impact!

There are many reasons to choose Pest & Termite Consultants as your professional pest control provider. Here are just a few of those reasons:
We have over 25 years of experience treating pest problems.

We have an A+ rating from the Better Business Bureau.

We offer solutions to your pest problems that are customized to your needs.

We use environmentally-friendly products in our services.

We offer quotes before completing service so you know what to expect.

We are dedicated to providing you with a pest free environment.

We deliver quality pest protection at an affordable price.
Quite simply, when it comes to pest control, we're the best in the business! We have the experience and know-how to get the job done right the first time. In fact, we're so confident in our services that we offer a guarantee; if pests return in between our regularly scheduled service visits, we'll return to re-treat your home at no additional cost!
We're Committed To Meeting Your Needs!
When pests come knocking at your door, you need a company you can trust to eliminate those pests and ensure that they don't come back! If you're dealing with pests in your home or business, call the guys in the blue trucks! The team here at Pest & Termite Consultants would be happy to work with you and put a stop to your pests problems.
Request Your Free Quote
Complete the form below to schedule your no obligation quote.