Expert Mosquito Control Solutions For North Carolina
Nothing can ruin an outdoor barbecue or an evening campfire like mosquitoes. However, despite all the annoyances they cause, mosquitoes are more than just nuisance pests. There are serious dangers associated with these pests. In fact, mosquitoes are considered the deadliest animal in the world, killing over one million people every year. Here in the United States, mosquitoes spread West Nile virus, malaria, dengue fever, and other serious diseases that can cause illness and even death. In order to keep your yard free of this disease-spreading pests, it's important to take action against them. Here at Pest & Termite Consultants, we offer mosquito control services to help you reclaim your yard!
How Our Mosquito Treatments Work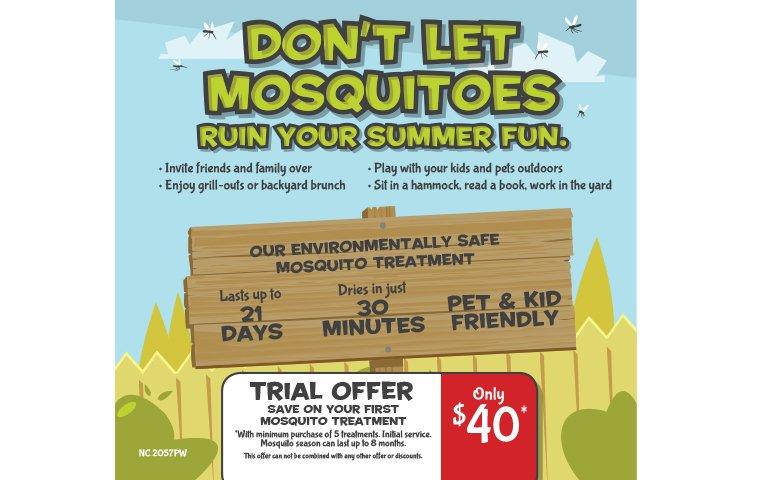 When you schedule a mosquito treatment with us, one of our registered and professional technicians will come to perform the service. Here at Pest & Termite Consultants, we use a backpack misting machine to administer the product to the necessary areas in a fine mist which won't pool or puddle. Concentrating on the borders of your home and the surrounding vegetation, this treatment will work to eliminate adult mosquitoes, larvae, and eggs. After this service has been completed, you should see results within 48 to 72 hours.

We know that the safety of your family is of utmost importance. But with our mosquito control services, you'll never have to worry. The product we use dries within thirty minutes, is environment-friendly, is safe for use around kids and pets, and isn't harmful to beneficial insects like butterflies or bees.

Here in North Carolina, mosquito season lasts longer than in other parts of the United States. That's why at Pest & Termite Consultants, we suggest making mosquito treatments a regular part of your spring, summer, and fall routine.
When you invest in our mosquito control plan, we'll return to your home every twenty-one days to re-treat your property, ensuring that your yard stays free of pesky mosquitoes all season long. Take back your yard this season with the help of the mosquito control experts here at Pest & Termite Consultants. Give us a call today to get started!
Request Your Free Quote
Complete the form below to schedule your no obligation quote.