Protect Your Home From Termite Damage All Year Round!
In North Carolina, termites are a year-round problem. Our humid climate provides the perfect environment for them to thrive, and thrive they do. If you haven't considered the value of termite protection, you may want to keep in mind that termites cause over $5 billion in property damages in the United States every single year. And since they stay out of sight, most homeowners don't realize they even have a problem until substantial damage has been done. With Pest & Termite Consultants by your side, you can eliminate current termite infestations as well as prevent future infestations from occurring. We offer a range of treatment options to protect your home from the threat of termites!
Our Termite Control Process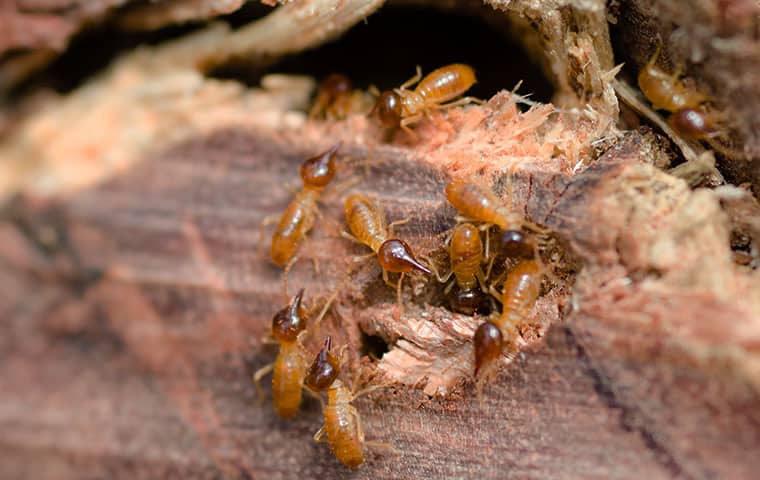 Free Termite Inspections
The subtle signs of termite infestations are easy to miss and are often found in hard-to-access locations. Here at Pest & Termite Consultants, we offer free termite inspections. One of our trained professional pest technicians will conduct a thorough inspection of your property for signs of termite activity.
Termite Control Treatments
Whether wood-destroying insect activity is discovered or not during your free inspection, or your NC WDI-100 inspection/report, we highly recommend putting a year-round termite treatment plan into place. Even if termites have not yet invaded, unprotected homes are at much great risk.

We offer several treatment options to keep your home termite-free:
Liquid Non-Repellants - Liquid non-repellants are completely undetectable to termites and applied around the perimeter of your home. When termites cross the product barrier, they pick it up and due to the nature and biology of termites, it affects the rest of the colony. The product not only eliminates any termites that pass over this barrier, but it also works to eliminate the entire colony.

Liquid Barrier Products - A chemical barrier is put down at all possible entry points termites can invade a structure. This barrier prevents termites from crossing through the treated barrier and kills them if they do.

Wood Borate Treatments - A borate chemical is applied to wood members of a structure. Termites are eliminated by any attempt to attack the structure.

Foam Treatments. In some instances due to construction and entry point of termites into a structure. It is sometimes necessary to treat in wall voids.
Termite Treatment Follow-Up
At Pest & Termite Consultants, we're so confident in our termite treatments that they all come with a one-year warranty. This warranty is both renewable and transferrable. With no transfer fee. Current owner will pay the current years renewal rate for the year. Pest & Termite Consultants, Inc., offers damage warranties on most guarantees. Don't let termites get the upper hand on your property. Instead, protect your home from termites before they invade by investing in our termite control services!
Request Your Free Quote
Complete the form below to schedule your no obligation quote.